The Case for Locking Mailboxes in Severe Weather Regions
---
Hey, it's James here from MailBoss and I'm excited to share with you why property owners in regions with harsh and severe weather conditions must use a locking mailbox for their mail needs.
As you know, weather conditions can cause all sorts of problems for property owners, including damage to their homes but also, to their mailboxes and the contents inside. I think you'll be surprised to find for a nominal price any homeowner can invest in a high-quality, secure locking mailbox that can withstand the elements and keep your personal information safe.
We all have heard stories from homeowners across the news and through our community channels about the devastation caused by severe weather conditions, like hurricanes and flooding, and how it can damage not only their homes or displace homeowners for an extended period, but it also exposes homeowners to identify theft and identity fraud. There is very little a homeowner can do when you are unable to reach your home that doesn't expose an individual to other possibly greater risk attempting to travel in poor weather conditions. We strongly advise the best approach is a pro-active approach.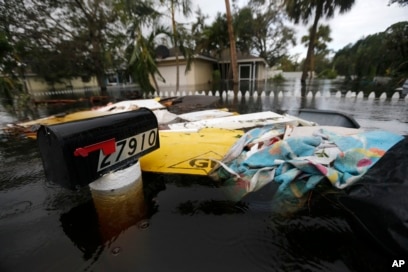 One homeowner I spoke with shared their experience of returning home after a hurricane to find their mailbox had been ripped off its post, and their mail was scattered all over the street. They had bills, bank statements, and personal information exposed for anyone to see. They were lucky that nothing had been stolen, but they realized they needed a better solution to protect their mail and information.
Similarly, another homeowner shared their story of being away from home during a severe storm and worrying about their mail being left unattended in their mailbox. With a locking mailbox, they could have peace of mind knowing that their mail, personal information, or prescriptions were safe and secure, even when they were away. It's never fun having to cancel your credit-cards or wonder if a slew of spam is coming your way because your personal information was stolen.
As reported by Consumer Affairs, "Credit card fraud was the most common type of ID theft in 2022, with 441,822 reported cases in 2022. This type of fraud, which accounted for about 40% of more than 1.1 million ID theft reports." Please note, if your identity IS stolen it is important to immediately report it to your bank, credit-card companies and IdentityTheft.com before you can become a victim.
That's where a locking mailbox comes in. A locking mailbox provides an extra layer of security to prevent unauthorized access to your mail during more challenging weather conditions. It could be a deep-freeze in Chicago lasting an entire week, hurricanes in Florida generating wind gusts strong enough to rip your mailbox right off its post or tornado's that seem to be appearing across the nation. It's also important to make sure you secure your mailbox correctly (Link). With the Mailboss, it's like having a small safe right at your doorstep.
Moreover, a locking mailbox is OUR pro-active solution for homeowners to protect sensitive information when you are home-or-away for any reason including weather or, hopefully, a well-deserved long vacation. Give yourself some peace of mind knowing a locking-mailbox is the ultimate defense and the main deterrent against identity theft and return thieves, a major concern for homeowners. Please check the link to our video to see how our high-security, locking mailbox deters theft.
In short, here are some of the top reasons why property owners, residential and commercial, in regions with harsher weather conditions should use a locking mailbox for their mail needs:
1. Protection from Severe Weather: Severe weather conditions, such as hurricanes, tornadoes, and blizzards, can cause significant damage to mailboxes and the contents inside leading to identity theft.
2. Prevention of Identity Theft: Mail theft is a common problem that can lead to identity theft and other forms of financial fraud. Thieves will be deterred by the added security of a locking mailbox and will be less likely to target your mailbox. Watch our video (www…)
3. Increased Convenience: With a locking mailbox, you can receive packages and mail without having to worry about being home to receive them. This can save you time and hassle, and ensure that your packages and mail are safe and secure.
4. Peace of Mind: With a locking mailbox, you can enjoy peace of mind knowing that your mail and personal information are secure. You won't have to worry about identity theft, mail theft, or damage to your mail due to harsh weather conditions.
5. Long-Lasting Investment: A locking mailbox is a long-lasting investment that can save you money in the long run. By investing in a high-quality locking mailbox, you can avoid having to replace your mailbox every few years due to wear and tear or damage from harsh weather conditions.
6. Compliance with Postal Regulations: The United States Postal Service (USPS) has regulations regarding mailbox safety and security. A locking mailbox can help you comply with these regulations and avoid fines or other penalties.
7. Customizable Options: Locking mailboxes come in a variety of sizes, styles, and colors, making it easy to find one that fits your unique needs and preferences. With customizable options, you can choose a locking mailbox that complements your home's aesthetics while providing the ultimate security for your mail.
So, don't wait any longer to protect your mail and personal information. You don't need a hurricane to consider a locking mail boss adding more protection. Invest in Mail boss products today and rest easy knowing that you've taken an important step to secure your home and belongings.
We hope you found our article helpful when addressing your mailbox needs!
For more information regarding identify theft – -please see the links below.
We strongly encourage you to review the following:
2023 Identity Theft Statistics
2022 Consumer Sentinel Network Data Book
USA Gov. Warning Signs of ID Theft
Last 50 Hurricanes that occurred in the United States:
Sam
Rose
Peter
Odette
Nicholas
Mindy
Larry
Kate
Ida
Henri
Grace
Fred
Elsa
Danny
Claudette
Bill
Ana
Zeta
Eta
Theta
Iota
Kappa
Lambda
Delta
Gamma
Beta
Alpha
Wilfred
Vicky
Teddy
Sally
Rene
Paulette
Omar
Nana
Marco
Laura
Kyle
Josephine
Isaias
Hanna
Gonzalo
Fay
Edouard
Cristobal
Bertha
Arthur
Andrea
Barry
Dorian
Last Major Floods in the United States:
Houston, Texas (2017)
Baton Rouge, Louisiana (2016)
Cedar Rapids, Iowa (2016)
Ellicott City, Maryland (2018 and 2016)
Hurricane Harvey, Texas (2017)
New Orleans, Louisiana (2005 and 2017)
Nashville, Tennessee (2010)
South Carolina (2015)
Upper Midwest (2019)
Missouri River Basin (2019)
These are just a few examples of the many places that have experienced major flooding in recent years. Flooding can happen anywhere and at any time, so it's important to be prepared and take necessary precautions to protect your home and property.
Sales by Town:
Lakeland
Auburndale
Jacksonville
Deltona
Miami
Jupiter
Plant City
Ocala
Fort Lauderdale
Hialeah
Tampa
Naples
Sarasota
Orlando
West Palm Beach
Pompano Beach
Saint Petersburg
Port St. Lucie
Bradenton
Tallahassee
Fort Myers
Delray Beach
Monticello
Daytona Beach
Boca Raton
Hollywood
Sales by County:
Polk County
Duval County
Volusia County
Miami-Dade County
Palm Beach County
Hillsborough County
Broward County
Marion County
Pinellas County
Orange County
Collier County
Sarasota County
Brevard County
Manatee County
St. Lucie County
Leon County
Lake County
Jefferson County
Pasco County
Monroe County
Lee County
Seminole County
Martin County