Mail Theft Monday: Jan 17 – Feb 17
by Stephen Ellison NBC – 01/22/20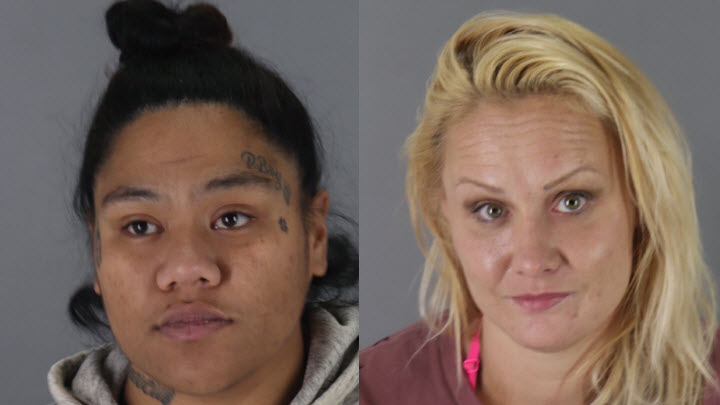 Two women suspected of stealing property Tuesday in San Carlos were arrested for the crime and for placing phony 911 calls in an attempt to distract the arresting officers, according to the San Mateo County Sheriff's Office. Lineti Takapuotuafi, 27, of Oakland and Antoinette Florez, 33, of Fresno were booked on charges including possession of stolen property, mail theft and false report of an emergency. They were booked into the Maguire Jail.
At about noon Tuesday, deputies responded to a residence in the 400 block of Portofino Drive in San Carlos after a neighbor reported two suspicious people on the property, the sheriff's office said. When deputies arrived, they found an unoccupied vehicle with stolen license plates, and it appeared to have stolen property inside. While searching the area, deputies stopped Takapuotuafi a few blocks away, and while they spoke with her, several 911 calls were made by Florez, who claimed there was a shooting at a nearby park, the sheriff's office said. The reported shooting prompted a local elementary school to go on lockdown.
The calls eventually were found to be distraction calls in attempt to have deputies release Takapuotuafi. Deputies traced the calls to a nearby residence and found Florez, sheriff's officials said.
COMMENTS: In an interesting case of mail and property theft, these two women attempted to pull the wool over authorities eyes by means of false report. We think that these women could have been casing the neighborhood to plan further property crimes, like auto theft and burglary. Your first line of defense against mail and identity theft is a well-built, sturdy, security locking mailbox like our curbside line of Mail Boss mailboxes.
---
by Bob Hallmark KLTV – 01/17/20
(HUGHES SPRINGS, TEXAS) A case of mail theft in a small East Texas community has one man in jail on forgery charges. The theft happened earlier this week in the Hughes Springs area, as a homeowner had a number of personal checks stolen from her mailbox.
"The woman was expecting some personal checks in the mail. She was not sure whether her checks had been delivered or not, and she was real concerned that they had been," said Hughes Springs Police Chief Randy Kennedy.
"Got a call from the bank saying that an individual had pulled up into the third lane and was wanting to cash one of my victim's checks." Kennedy says. The chief calmly blocked Chandler's car in the drive through with his patrol unit, cutting off his escape. "He said I couldn't arrest him, that I didn't have a warrant, and I explained to him I didn't have to have a warrant. He was in the commission of a crime and in possession of stolen checks and was under arrest," Randy says.
Kennedy has been in contact with the U.S. Postal Service to determine whether any of the recent mail thefts may be connected to a larger operation. So far only Rakeem Chandler has been arrested in this case.
COMMENTS: This case is a great example of the unnecessary stress that can be brought on by mail theft. Knowing that she was missing checks, the concerned resident immediately reported the crime and luckily, the assailant was caught at a nearby bank cashing the check before any major damage could be caused. However, the woman would have likely never been a victim of this crime if they had been instead been the proud owner of a quality, locking security mailbox.
Most mail thefts do not lead to arrests, but this particular thief was caught. Due to the nature of the crime itself it is extraordinarily hard to track down the criminals in most cases. We highly recommend that individuals check their mail each day, and that they make a small investment into their mail and identity security with the use of their very own locking mailbox.
---
by NEWSON6.com – 01/23/20
(Rogers County, Oklahoma) Rogers County deputies arrested a man facing charges for stealing mail while he was out on bond and wearing a GPS ankle monitor.
Deputies arrested Jacob Killough after tracking his ankle monitor to a local casino. They previously arrested Killough in August after he was accused of stealing checks from the mail all across northeastern Oklahoma.
Deputies believe he was recently targeting his Owasso neighborhood stealing more mail. Killough is in federal custody and is charged with mail theft, identity theft, and fraud.
COMMENTS: In yet another case of rampant mail theft, this thief was caught red handed while out on bond. Luckily he was easily tracked down because of his high-fashion GPS ankle bracelet. However, so many more thieves go uncaught, and mail theft is too easy a crime for those looking to make a quick dollar. Even a simple locking mailbox will at least keep the honest people honest. At the very minimum a locking mailbox can slow a more serious thief down a little bit. However, a Mail Boss locking mailbox will keep crooks like these at bay.
---
by Cody Blowers St George News – 01/18/20
(ST. GEORGE, UTAH) A local man was arrested Thursday after the Washington County Sheriff's Office conducted a two-month investigation into multiple mail thefts reported in a number of rural communities across the county, including some packages just before Christmas.
Dennis Murty, 50, was arrested Thursday and booked on seven class A misdemeanor counts of mail theft and three misdemeanor counts of criminal mischief.
The arrest stems from an investigation that began in November after police received multiple reports of mail theft that took place in several rural communities throughout Washington County.
Washington County Sheriff's detectives soon discovered that a majority of the thefts involved cluster mailboxes, which is a delivery system that has up to a dozen individually locked mailboxes and parcel compartments used in cases where a centralized, communal mail delivery system is used for many residences.
COMMENTS: Thieves targeting cluster units is all too common. Cluster units can usually be accessed through one main locking door, which effectively grants access to the entire grouping of units. Remember to report anyone suspicious that looks like they are unreasonably lurking near mailboxes, or attempting to break into them.