Mail Theft Monday : 03/31/20 – 04/06/20
More mail theft covered in yet another #MailTheftMonday! This week were covering crimes across our country, including burglaries, forgeries and of course anything and everything mail and identity theft. From west to east coasts, no one is safe from mail thefts – unless they have a MailBoss!
by Josh Thompson, Chino Champion – 04/04/20 – Chino / Hemet, CA
Police in Hemet jailed a 35-year-old transient March 24 on suspicion of stealing mail from the blue mailboxes located outside several U.S. Post Office locations, including the Chino Hills branch at 14071 Peyton Drive.

Stephen Michael Brayley was booked on $45,000 bail at the Southwest Detention Center in Murrieta on several charges including forgery, burglary, possession of a controlled substance, possession of fictitious checks, impersonation and grand theft.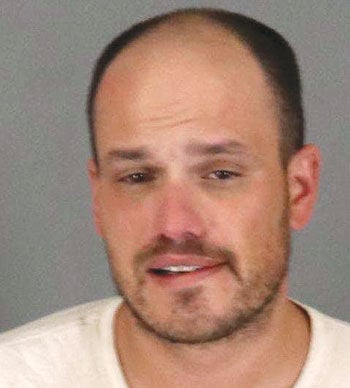 He is scheduled to appear in a Murrieta Southwest Justice Center court room on Friday, April 10, jail records show.

Riverside County Gang Task Force officers stopped the driver of a car at 8 p.m. in the 400 block of Florida Avenue in Hemet and arrested the driver after officers learned he had outstanding warrants for grand theft and counterfeiting, according to Hemet Police.

More than 340 personal checks, cashier's checks, money orders, savings bonds and other documents not belonging to the suspect were found.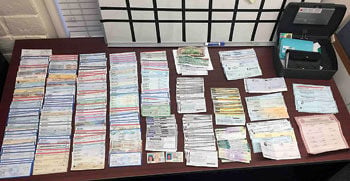 "There was evidence of identity theft, check fraud and grand theft," Hemet police stated in a news release. "A small amount of methamphetamine was also recovered."

Hemet police said the suspect likely took the items from the Chino Hills Post Office, the Hardman Post Office at 5172 Arlington Ave., Riverside; San Jacinto Post Office at 315 E. Esplande Ave.; Moreno Valley Post Office at 23580 Alessandro Ave.; and the Palm Desert Post Office at 74801 Howley Lane East. 

"Among the numerous stolen checks were several savings bonds belonging to a young man by the name of Tyler," Hemet police reported. "Tyler's grandmother had been saving the savings bonds for him so he could put it towards the purchase of a car."

Police said Tyler and his mother drove from Cathedral City to Hemet to reclaim the savings bonds.

Anyone with information is encouraged to call Hemet Police Department at (951) 765-2400.
COMMENTS: Wow, look at that pile of incriminating checks and evidence! This guy wasn't playing around, and we are so glad that his mail and identity theft run has come to a halt. The mail thieves that get caught are usually the ones that take it way too far, committing bank forgery, grand theft and identity theft.
But that is why you need a locking mailbox. You lock your car, your house, and anything else that contains valuable information or is dear to you! Lock your mail!
by Jon Jankowski, ClickOrlando News 6 – 03/31/20 – Orange County, Florida
The Belle Isle Police Department has noticed an increase in mail theft. Investigators say suspects are taking outgoing bill payment checks and other items. Police said anyone mailing out bills should not place them in an unsecured mailbox.
'INCREASE IN MAIL THEFT REPORTED IN BELLE ISLE Please be aware that mail theft out of residential mailboxes is again'…Posted by Belle Isle FL Police Department on Wednesday, April 1, 2020
It is recommended to drop the bills off at the post office. Authorities also recommended the public to think about investing in a locking mailbox or renting a post office box. Officers said use electronic payments and banking when possible. Anyone caught stealing mail could face felony charges.
COMMENTS: Outgoing mail should always be dropped off at a secure location, as it is never secure in a curbside mailbox – not even a locking mailbox.
It is common for police departments to suggest PO boxes or locking mailboxes to their citizens. They know what they are talking about… it saves them (and the residents) time and money in short manner.
Locking mailboxes happen to pay for themselves even quicker for residents too. While a PO box is certainly a great option as well, it (usually) costs a yearly or monthly fee, which can add up quickly. Alternatively, our mailboxes are designed to last a long time, and are therefore a great investment into security.
by FOX12 – 04/02/2020 – Gresham, Oregon
A Gresham man is facing charges for stealing identification and financial documents from dozens of people throughout the Portland metro area, according to the U.S. Attorney's Office in Oregon.

Robert Loren Finanders, 39, is accused of swiping documents from approximately 100 people to steal money from them and local businesses, according to court documents.

Some of the stolen identities appear to have been taken by breaking into cars to steal wallets and purses, the attorney's office says. Investigators believe Finanders spent tens of thousands of dollars using stolen credit cards and other personal information.

Portland police started investigating Finanders in September last year after finding a fake Oregon driver's license in the name of a victim during an arrest. The license had Finanders' photo on it in place of the victim's, the attorney's office says. Investigators learned around the same time that police officers in Bend had arrested Finanders and a co-conspirator after receiving a report of a person ordering food at restaurant using a stolen credit card.

Fox12 Oregon – 04/02/2020 – Gresham, OR
Bend police searched a vehicle being driven by Finanders' co-conspirator and found a passport, W2s, and a retail credit card matching the name of the victim whose stolen driver's license was recovered by PPB, according to the attorney's office. While searching a Bend hotel room shared by Finander and his co-conspirator, officers recovered W2s in the name of another victim and a victim profile notebook. PPB officers later linked Finanders to additional identity theft crimes in Portland, Gresham, and Lake Oswego.

A search warrant in January this year revealed stolen profiles for more than 80 people, dozens of stolen and fraudulent identification and personal documents, including passports, government-issued identification cards, and driver's licenses, an embosser, a card reader, stolen mail, additional victim profile notebooks, three handguns, a dismantled AR-15, body armor, evidence of drug trafficking, and other items, according to the attorney's office.

Finanders was arrested on Wednesday; He is facing charges including aggravated identity theft, counterfeit access device fraud, illegal possession of device-making equipment, and felon in possession of a firearm.

Fox12 Oregon – 04/02/2020 – Gresham, OR
COMMENTS: Another case of mail theft going hand in hand with more serious and aggressive crimes. We're very glad to see a guy like this taken down, as he was clearly up to no good in the neighborhood. Finanders caused a lot of grief for a lot of people through stolen goods, mail and identity theft included.
An individual like this, we can only assume, would likely not stop at mail theft. Finanders was breaking into vehicles, and was involved in several other crimes. However, the widespread use of locking-security mailboxes definitely would have limited his scope.
by Jill Way, Bolivar Herald – 04/04/20 – Bolivar, Missouri
After seeing an increase in thefts from mailboxes over recent weeks, the Bolivar Police Department is reminding residents to remain vigilant when it comes to their mail. According to a news release from the department, theft from mailboxes is a common concern during tax season because "many people are expecting refunds from the state and federal government in the form of checks."

The department frequently receives reports of important documents, including credit cards, benefit checks and bank statements, taken from people's mailboxes, the release said. "All of these give criminals an opportunity to steal identities, ruin credit scores or deprive citizens of earned monies," the release said. "Add to this the potential for government issued stimulus checks being issued to the majority of households to help with the COVID-19 pandemic, and the potential for loss and frustration grows even greater."

The release offers tips to avoid this type of theft. "Whenever possible, arrange to have monthly payments automatically made through the internet or automatic withdrawal," the release said. "Many places of business, such as insurance companies, offer discounts for people who enroll in their auto-pay programs."

The release said people who receive monthly benefits, like annuities or social security payments, can take advantage of direct deposits.

The U.S. Postal Service also offers a free mail tracking app called Informed Delivery, the release said. "This app scans in photos of your mail and is sent directly to your cell phone so you can see what you have coming before it gets there," the release said. To learn more about Informed Delivery, visit informeddelivery.usps.com.

Jill Way – Bolivar Herald
COMMENTS: The U.S.P.S. Informed Delivery service is a wonderful recommendation to individuals whom regularly access their emails or are expecting packages and important mail. However, you do have to pay close attention to what is coming in order to maintain a ledger against what might be missing.
I am quite surprised to not see a single mention of a locking security mailbox in this article. It addresses some of the most recent and major concerns of mail theft, including COVID-19 relief / stimulus checks, tax season mail theft, and check fraud. However, the author fails to mention that the use of a high security mailbox is the best way to protect oneself against mail and identity theft.
You might not even realize that any important mail is missing for several days, weeks or months unless you have a locking mailbox…
---
That's it for this weeks edition of Mail Theft Monday. Tune in next week for more coverage of mail theft occurring across our nation!