Mail-Identity Theft – May 2015
Here is a round up of news stories featuring mail thieves targeting mailboxes to steal sensitive information for identity theft, mailbox burglaries, mail-identity theft, mailbox vandalism and more. These activities occur in big cities and rural areas alike, from Washington to Florida and most everywhere in between…
May 1:
LAKE OSWEGO, Oregon: Lake Oswego Review – Alleged mail fraud ring hits Lake Oswego residents; "An alleged mail fraud ring based in the Portland area has hit a number of Lake Oswego homes. Canby Police Lt. James Murphy visited some of the victims last week, and one resident of North Shore Drive said he was told his mail was among the items that had been stolen."
SANTA CLARITA VALLEY, California: The Santa Clarita Valley Signal – 11 felony counts filed against alleged SCV ID thief; "

A Valencia man suspected of stealing the mail of nine Santa Clarita Valley residents and allegedly exploiting their identities for gain now faces an 11-count felony complaint filed against him for identity theft, court papers show.

"
DENVER, Colorado: KDVR 31 – Thornton police say guard your mail; "Police say they are getting reports about a man in a late model, silver Mercury Milan, who is following neighborhood U.S. mail trucks when mail is being delivered. The man waits for mail to go into the free-standing boxes in folks yards. He has been caught on video pulling right up to the boxes, opening them and stealing everything inside."
SHAKOPEE, Minnesota: Shakopee Valley News – UPDATE: Shakopee police report; "Mail theft was reported at 8:40 p.m. on the 1600 block of Windsor Drive."

DICKINSON, North Dakota: Dickinson Press –Blotter: Prescription medication reported stolen from mailbox; "A male reported three medical prescriptions were stolen from his mailbox Wednesday afternoon on the 900 block of Dan Drive. The male estimates the three prescription refills are worth around $8,800. Police say the prescriptions are all sellable on the street."
WAUKESHA, Wisconsin: The Journal Times – Suspects arrested in fraud, mail theft scheme; "According to a criminal complaint filed in Waukesha County Circuit Court, the scheme involved the men taking mail out of mailboxes, printing checks with the addresses gleaned from the stolen mail, then hiring a person off the street to try to cash the checks."
SALINE COUNTY, Arkansas: KATV 7 – Sheriff says thefts on the rise in Saline County; "Our community is growing and along with the good comes the bad and we used to be able to leave our door unlocked, leave and come back and now we cant do any of that," Panser said. The former mail carrier told Channel 7 mail theft is the main concern for citizens there."
OWENSBORO, Kentucky: Messenger-Inquirer – Police Reports; "Two personal checks were stolen from the mail Wednesday at a home in the 2200 block of Iron Leigh Court."
CAMARILLO, California: Camarillo Acorn – Don't fall victim to mail theft: No matter the city, crooks taking mail; "Since January 1, 18 mail thefts have been reported to the police department, and some victims were not aware that their mail had been stolen until the department contacted them about its recovery."
MONROVIA, California: Monrovia Patch – CHP Identifies 10 Victims of Alleged Credit Card, Mail Thefts: The investigation began when a CHP officer stopped a suspected DUI motorist in Los Angeles County and investigators discovered the items; "California Highway Patrol investigators arrested a 29-year-old Los Angeles County man who allegedly stole mail, identities, credit cards and blank checks, also forging signatures and possessing drugs."
SPRINGFIELD, Missouri: KSPR 33 – Man with long criminal history is charged with stealing IDs; "A man from Springfield is suspected of victimizing about 50 people by stealing mail from their mailboxes. Greene County prosecutors say Eric Vancil committed the crime of trafficking in stolen identities while out on bond and being monitored by a GPS device while awaiting trial on other crimes."
May 2:
FEDERAL WAY, Washington: Federal Way Mirror – Police nab serial mail thief | Federal Way Police Blotter; "

She admitted to going through other people's mailboxes. Police recovered 27 pieces of stolen mail that belonged to nine victims from addresses within a few blocks of each other. Police arrested the woman, who said her friend told her that if she stole a bunch of mail for him he would show her how to make a lot of money with the mail.

"
May 3:
May 4:
May 5:
May 6:
MONTROSE, Colorado: Montrose Daily Press – Mail-theft suspect facing more charges; "

Cassandra Mazza and Mariah Earle, suspected of perpetrating several instances of mail-theft last Christmas season, saw their cases continued Monday, in part because of new warrants being issued against them.

"
MANTECA, California: Manteca Bulletin – Residents with busted mailboxes wait on repairs; "

Community-style mailboxes in their neighborhood were broken into and vandalized about two months ago. The backs of each box, standing side by side and in plain view of a security camera, were ripped off, exposing 24 individual boxes and leaving many vulnerable to mail theft."

PORTLAND, Oregon: KOIN 6 – USPS employee 'slapped' by accused mail thief, Keith Burns, 35; "A 35-year-old man is accused of stealing a package from a United State Postal Service mail carrier and then slapping her in the face, authorities said."
May 7:
SANTA FE, New Mexico: Santa Fe New Mexican – Santa Fe man arrested on suspicion of credit card, mail theft; "

Police this week arrested a Santa Fe man suspected of possession of stolen mail and fraudulently using bank cards stolen from shoppers at a local grocery store.

"
AUBURN, Washington: The Olympian – Mail thief sentenced to two months in jail; "Officers located Buttelo at a Lacey hotel. While searching her hotel room, they found methamphetamine, heroin, drug paraphernalia, stolen mail, packages with UPS labels, stolen checks and a credit card making machine."
CHANHASSEN, Minnesota: Chanhassen – Sheriff report; "May 1 – At 9:51 a.m., responded to the 7700 block of Vasserman Trail, Chanhassen for report of a mail theft. At 11:16 a.m., responded to the 8700 block of Flamingo Drive, Chanhassen, for report of mail theft."
PFLUGERVILLE, Texas: KXAN – Police: Woman arrested had ID information of 57 different people; "Pflugerville police arrested a woman who they say had more than 50 people's identifying information in a purse, including debit cards, checks, mail and property tax information."
May 8:
GLASTONBURY, Connecticut: NBC Connecticut – Man Stole Checks From Glastonbury Mailbox; "Police have arrested a Manchester man accused of stealing checks from the mailbox of a Glastonbury home and forging them in his own name."
TRACY, California: Tracy Press –

Thieves hit co

mmunity mailboxes; "

Thieves are targeting community mailboxes across the city and the police are warning residents to not let their mail pile up.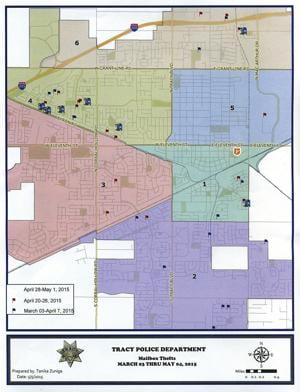 May 9:
PALMER, Alaska: Mat-Su Valley Frontiersman – 2 receive nearly in theft case; "Troopers said they also found mail stolen from mailboxes potentially affecting several hundred people."
VALENCIA, California: The Santa Clarita Valley Signal – Valencia: Public Safety and Crime Prevention Information; "

Two incidents of mail theft took place near the 26000 block of Sombras Court. An unknown suspect stole the victim's mail from her mail box. A neighbor found the victims mail open on the paseo located behind the victim's home.

"
May 10:
May 11:
HUBBARD, Oregon: Woodburn Indpeendent – Three teens arrested in Hubbard for numerous thefts; "During this crime spree, officers said they discovered more than 30 mailboxes had been accessed that the teens allegedly rifled through, looking for valuables, before tossing the mail all over the street."
FRIENDSWOOD, Texas: The Friendswood Journal – Female mail thief working the Friendswood area; "In the past two weeks, there have been two reports of mail theft."
HUBBARD, Oregon: FOX 12 – Police: Teenagers face felony charges after mail theft, burglary spree; "In addition, the teens also opened more than 30 mailboxes around town looking for things to steal, police said."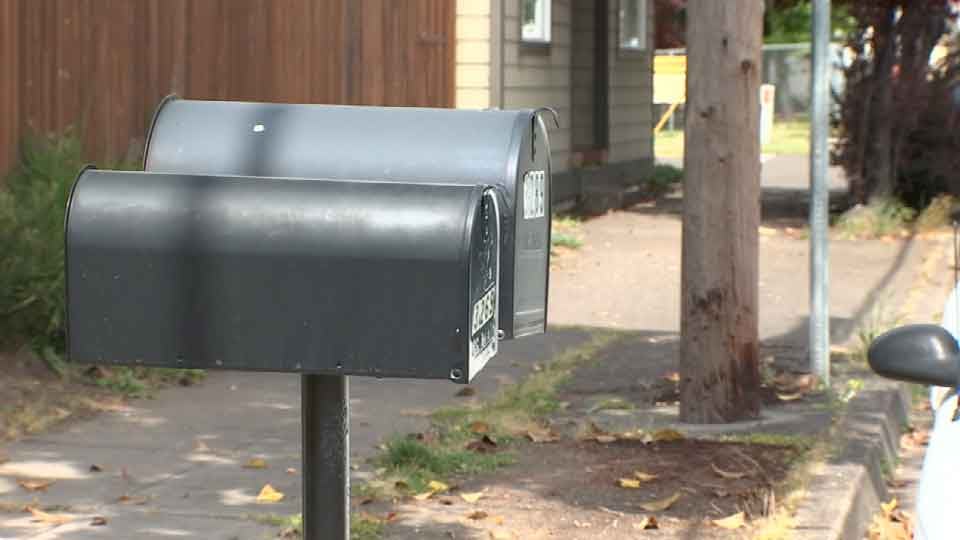 May 12:
SCRANTON, Pennsylvania: Pocono Record – East Stroudsburg man charged with stealing mail; "An East Stroudsburg man has been charged in federal court with stealing mail, according to the U.S. Attorney's Office for the Middle District of Pennsylvania."
SPRINGFIELD, Missouri: Springfield News-Leader – Sheriff's Office: Crimes against persons up in first quarter; "In a message written by Sheriff Jim Arnott, he said individuals can avoid becoming a victim of mail theft by not sending any cash or anything of monetary value through the mail from a home mailbox."
May 13:
May 14:
May 15:
WINDERMERE, Florida: WFTV 9 – Deputies: Alleged mail thief caught after writing apology letters; "A suspected mail thief may have let his conscience get the best of him, and his apologetic actions may have helped lead to his arrest, authorities said."
GRAND HAVEN TOWNSHIP, Michigan: WZZM 13 – 50 mailboxes destroyed in GH Township; "Investigators say vandals targeted the area overnight on Wednesday. "Could have been a baseball bat, maybe a two-by-four piece of wood," said Captain Mark Bennett with the Ottawa County Sheriff's Department."
VINELAND, New Jersey: NJ.com – Vineland police report theft of copper pipes, dirt bikes and mail; "A Forest Grove Road man told police Tuesday that money orders to pay for his rent have been stolen from his mailbox for the past two months — amounting to $485 each. None of his neighbors complained about their mail being stolen."
May 16:
May 17:
May 18:
COLORADO SPRINGS, Colorado: The Gazette – Voice of the Consumer: Be careful what you leave in the mailbox; "Pitt said the financial crimes unit is swamped right now, with each detective handling about 30 cases. That means if you become a victim, it may take a while to get to you. She said a lot of mail theft cases are drug-related, with thieves exchanging your information for drugs."
SANTA FE, New Mexico: Santa Fe New Mexican – In age of easy copies, thieves just need bank information; "For those who prefer receiving banking statements by mail, he said, putting a lock on the mailbox can lower the risk of mail theft."
SEATTLE, Washington: KOMO 4 – Woman sentenced to 4 years in prison for stealing mail; "A woman caught with hundreds of stolen checks and IDs for more than 380 victims has been sent to prison for four years."
LEXINGTON, Kentucky: Lexington Herald-Leader – Lexington police arrest man in thefts from mailboxes; "Residents of the neighborhood recently reported that a man was stealing mail from houses. Clark was charged with theft of mail matter. He also was wanted on two unrelated warrants."
KING COUNTY, Washington: Kent Reporter – King County woman gets four years in prison for mail, identity theft; "A repeat offender, with prior convictions for forgery and identity theft, was sentenced on Monday in U.S. District Court in Seattle to four years in prison in connection with stealing mail from more than 380 victims in King County."
LEXINGTON, Kentucky: ABC 36 – Man accused of stealing mail in Lexington; "Police say there had been reports of stolen mail in the area of Park Avenue and Kalmia Avenue. They investigated, and on Saturday, undercover officers say they spotted David Clark stealing mail."
May 19:
WAITE PARK, Minnesota: KVSC – Stolen Mail Recovered After Three Arrested At Motel 6 in Waite Park; "Officers found a large amount of mail in Sullivan's room in the motel which followed a search warrant of stolen mail from the Rice and Cold Spring area. The recovered mail was given to the United States Postal Inspection Service for investigation."
SEATTLE, Washington: KHQ 6 – Woman sentenced to 4 years in prison for stealing mail; "According to records filed in the case, Catton and her cohorts stole large volumes of mail throughout King County from homes and apartment complexes between March 2013 and early 2014."
WAITE PARK, Minnesota: SCTimes – Stolen mail found in motel room after arrests; "Officers saw a large amount of mail in the motel room while making the arrests, and a search warrant found stolen mail from Rice and Cold Spring."
MEDFORD, Oregon: Mail Tribune – Emergency services; "Mail Theft — Timothy Shawn Lair, 31, of the 1300 block of Beekman Avenue, Medford. Medford police Monday arrested lair on charge of mail theft, hit-and-run driving and second-degree criminal mischief. He was lodged Monday in jail and released on his own recognizance."
WAITE PARK, Minnesota: ABC 5 – Stolen Mail from Rice, Cold Spring Found During Arrests; "Three men were arrested Friday after an attempted warrant arrest led to reckless driving as well as the discovery of stolen mail from central Minnesota."
CITRUS COUNTY, Florida: WFLA 8 – Mail theft ignored by Postal Service costs Citrus County woman $1,000; "Staff at the West Coast Eye Institute in Citrus County suspected something was happening to the weekend mail one year ago. So Doctor John Rowda installed surveillance cameras. The cameras captured crooks stealing mail – over and over again."
May 20:
DOUGLAS COUNTY, Missouri: KY 3 – Mailbox thefts and vandalism reported in Douglas County; "If you live in Douglas County, watch what you put in your mailbox. The sheriff's office says they are investigating a rash of thefts and vandalism."
YUCAIPA, California: Press Enterprise –YUCAIPA: Routine check leads to fraud arrest; "While checking on the woman, they discovered Hiers at the location. He was wanted on a no-bail warrant for commercial burglary, mail theft, possession of stolen property and check fraud, the release said."
COLUMBIA, South Carolina: WISTV 10 – Four indicted on federal charges in mail theft ring; "Postal inspectors say they were part of a ring of mail thieves who stole outgoing mail and personal checks from residential mailboxes in the Midlands area, forged checks, and used stolen IDs to cash the checks at area banks. About 40 people had their mail stolen."
May 21:
May 22:
May 23:
SAN FRANCISCO, California: SFBay.ca – Valuable art stolen from intercepted mail; "A highly valuable mask and album cover from avante-garde band The Residents was stolen from a San Francisco resident earlier this month after thieves intercepted a package, police said Friday."
May 26:
RICHFORD, Vermont: MyChamplainValley.com – VSP: Woman Throws Unwanted Stolen Mail Out the Window; "Vermont State Police arrested a woman they say was stealing mail from several residences in Richford. The incidents have been ongoing since December 2014."

HENDERSON, Nevada: Las Vegas Sun – Men accused of using counterfeit keys to steal from mailboxes; "According to the criminal complaint filed May 8, the U.S. Postal Inspection Service had been investigating reports of extensive mail theft in the Henderson and Las Vegas areas."
LAS VEGAS, Nevada: KLAS 8 – Pair arraigned on charges of stealing from mailboxes; "Two men charged with using counterfeit mail box keys to steal checks, credit cards, and other information from local mailboxes were scheduled to be arraigned Tuesday afternoon before U.S. Magistrate Judge Carl Hoffman."
May 27:
CORONA DEL MAR, California: Corona del Mar Today – From the Police Log: Another Mail Theft, Burglary Report; "A few days after issuing an alert about thieves stealing mail and packages from Newport Beach and Corona del Mar homes, police received another report of petty theft of mail."
May 28:
May 29:
UNION COUNTY, Mississippi: New Albany Gazette – Teens face charges in mass mailbox vandalism; "Perhaps as many as 100 mailboxes in the Alpine and Jericho areas of eastern Union County were vandalized Monday night and Sheriff Jimmy Edwards is urging anyone who suffered damage to call his office."